July 1st - Save the date for the All Ireland Rally for Life!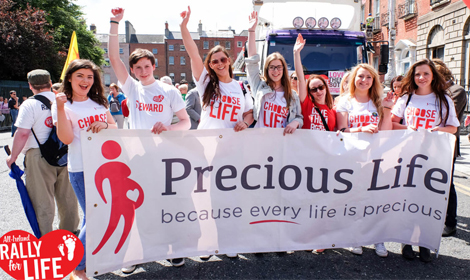 The infamous All Ireland Rally for Life is so close – Precious Life are depending on you to be there to help us protect mothers and babies up and down Ireland. The rally takes place in Dublin on Saturday July 1st at 2pm starting off at Parnell Square. Precious Life, alongside Youth Defence, are co-organisers of this annual event which attracts thousands of proud pro-lifers every year without fail.
Why do so many people from all backgrounds and across all age groups feel compelled to march? The simple and beautiful reason - Every life matters and we want all mothers and babies to be protected in Ireland through our laws and communities. This year's rally is vitally important, perhaps the most crucial yet - at a time where the push to repeal Ireland's eighth amendment to the constitution is stronger and more aggressive than ever before - we need to stand up and demand the humanity of the pre-born. With a referendum on the near horizon, a major concern Precious Life have is that the people of Ireland will not be armed with all the correct facts and information to vote informed.
With those campaigning to essentially remove all constitutional protection from the unborn child in the womb here having the full sympathy of the media, we each need to do our best to spread the 'save the eighth' message. What better way than teaming up with our Southern counterparts in the fight for life on July 1st?
With the prospect of Alliance Party David Ford MLA's Private Member's Bill which sought to legalise abortion of unborn babies with life-limiting disabilities, right up to the moment of birth being re-introduced to Stormont when the Assembly meets once more, Northern Ireland's unborn children and their mothers are under serious threat at the moment.
We all must be aware that there are powerful pro-abortion campaigners throughout Ireland, the UK, the European Union and the United Nations who are attacking our life-saving pro-life laws. Estimates suggest as many as a colossal100, 000 people are alive today in Northern Ireland and 250,000 in the Republic of Ireland purely because of Ireland's 8th amendment. Surely you will agree with us that this must be celebrated and shared with all. What better way than through attending fantastic pro-life events such as this one?
Now more than ever we must show our absolute opposition to abortion and to stand unconditionally strong for life. Mark your calendars and make sure to join us for a wonderful celebration of life on July 1st!