The All Ireland Rally for Life - Dublin - July 1st 2017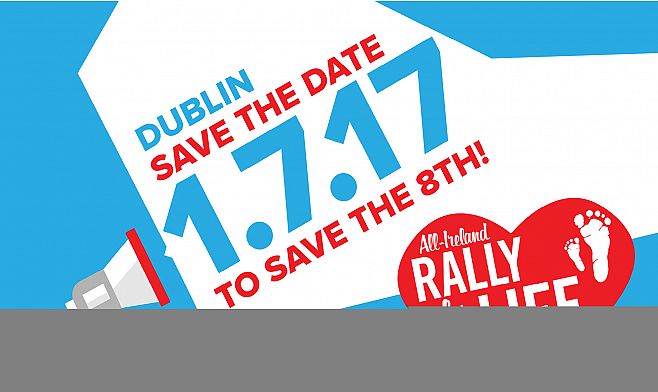 Join tens of thousands in Dublin on Saturday, 1st July at 2pm, as we march to celebrate LIFE and in support of Northern Ireland's pro-life laws and the 8th Amendment - the part of the Irish constitution that protects the EQUAL right to LIFE of mothers and preborn babies.
Here are three reasons why we all need to go to the 2017 Rally in Dublin:
In March 2017, former Justice Minister of the NI Assembly, David Ford MLA of the Alliance Party, resubmitted his up-to-birth Abortion Bill to legalise the killing of unborn children with life-limiting disabilities. The deadly threat against little disabled babies is gaining momentum.
The Eighth Amendment of the Irish Constitution - the part that protects the EQUAL right to LIFE of mothers and unborn babies is under threat. The law in the south impacts the laws made in Stormont and vice versa. The Rally needs to be a POWERFUL reminder that our laws, both north and south, must continue to protect every mother and baby.
This is the closest we have ever been to having abortion legalised. Please mark July 1st as the most important date in your calendar. Come join us in Dublin with your family and friends and help us make this year's Rally the biggest ever!
Let's send a clear and powerful message to the nation, to our governments, and to the world -
...we are pro-life and proud !
BOOK YOUR SEAT ON A RALLY BUS NOW !
Buses travelling from all over Ireland:
Armagh -
Contact Belle on 028 90278484 OR: Belle on 07596501003
Ballymena - 9am from All Saints
Contact Moira on 078456 86437
Belfast - 9.30am Glengall St
Contact Lucy on 078402 69414
Castlewellan - 9.30am from Lower Square (St Malachy's Church)
Contact Rachael on 0770573911
Derry - 8am St Joseph's Church, Galiagh
Contact Ciara on 07749308198
Dunloy - 8.30am
Contact Moira on 078456 86437
Dunsilly - 9.20am
Contact Moira on 078456 86437
Hilltown - 9.50am from Hilltown Square
Contact Rachael on 0770573911
Kilcoo - 9.40am from Kilcoo Theirforth
Contact Rachael on 0770573911
Newry - 10.30 from The Mall, Newry (beside Veritas bookshop/ Cafe Creme/ Newry Parish Centre)
Contact Rachael on 07770573911
Omagh - 8.30am from Crevenagh Rd Park and Ride
Contact Eamon on 07743502165
Rostrevor - 10.05am from Rostrevor Square
Contact Rachael on 0770573911
Warrenpoint - 10.15am from Warrenpoint Square
Contact Rachael on 0770573911
Donegal / Mayo / Galway / Limerick / Kerry / Cork / Waterford / Dublin / etc -
Contact 01 8730465
(Contact us if you would like to organise a Rally Bus from your area)
Tel: 028 9027 8484 (NI) / 01 8730465 (RoI)
www.rallyforlife.net
Twitter: @Allirelandrallyforlife #RALLYFORLIFE #Savethe8th