Youth for Life NI - SUMMER ROADSHOW Starts- 26th July - 2nd August
26th July 2017
Around Northern Ireland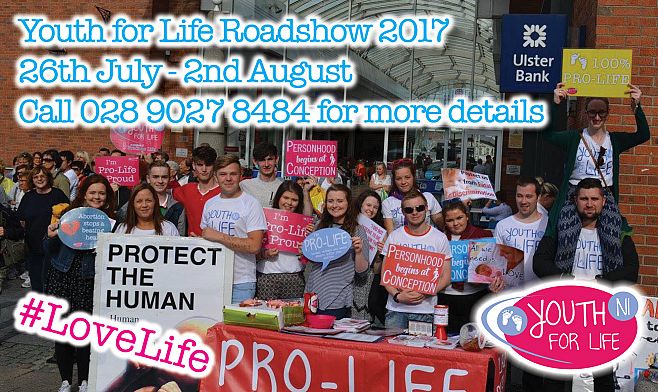 Youth for Life NI are having their THIRD annual pro-life roadshow this year from 26th July - 2nd August sharing the pro-life message with a town/city near you, heading to Armagh, Ballymena, Derry, Enniskillen, Letterkenny, Lisburn, Newry, Omagh and Strabane!
Our roadshow aims are to:
• Spread the pro-life message to thousands of people through engaging street sessions in busy city centres.
• Help protect Northern Ireland's unborn children from abortion!
• Call and equip a new generation to end abortion!
• Join this great team and make friends for life!
For more info on how you can join the roadshow team, contact 028 9027 8484 or email info@preciouslife.com
Check out our facebook page!

Watch our video below from last year to give you more of an insight on the roadshow!