Street Outreach
For over 25 years, Precious Life has talked to hundreds of thousands of people at our Pro-Life Street Outreach every Saturday in the towns and cities of Northern Ireland. We set up our Information Table and Pro-Life Display, hand out leaflets and collect signatures for our petition against abortion.
In an era where people often hear only what they want to, it is the task of pro-life activists to engage with the public on the street. This is one of the best ways to by-pass the media and bring the pro‑life message directly to the people.
As you know, the media won't do our job for us. It isn't an easy job. But with creativity, strategy, and determination, it is a job that Precious Life will continue to do with dedication and commitment.
From our years of experience, we've found that most people instinctively know that killing an unborn baby is wrong. However, some choose to ignore it is happening, while some try to find reasons to justify it.
But when people see and hear the vital information we provide on the street, they are left in no doubt that killing a baby - for any reason - is always wrong. Right before our eyes we see hearts and minds changed. And when they do, we know future lives will be saved.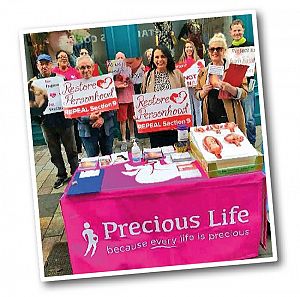 Since the Westminster Government forced abortion on Northern Ireland, our Street Outreach Campaign has become all the more vital and urgent.
We cannot wait for the abortion problem to be solved for us. Town by town, city by city, we must fight this necessary battle until abortion becomes a thing of the past.
As holocaust survivor Elie Wiesel said, "…There may be times when we are powerless to prevent injustice, but there must never be a time when we fail to protest…"
The ultimate goal of our Street Outreach is to make abortion unwanted today and unthinkable for future generations.
SUMMER ROADSHOW
The yearly highlight of our Street Outreach is our Annual Pro-Life Summer Roadshow in August when we tour across Northern Ireland in an intensive week-long campaign of pro-life activism. From Belfast to Coleraine, and the bustling seaside resorts of Bangor, Ballycastle and Portrush, to Warrenpoint then the market town of Lisburn and across to the Maiden City of Derry, we give the people of Northern Ireland the opportunity to say very clearly – "abortion is not in our name!"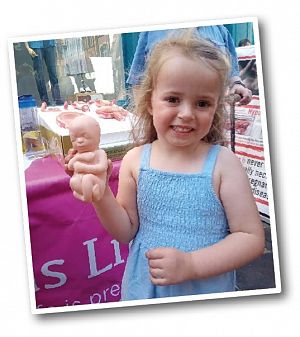 Throughout the year we also travel to other towns, but our permanent Street Outreach is every Saturday, 2-4pm, in Belfast 'Cornmarket' and in Derry City outside the Foyleside Shopping Centre on Ferryquay Street.
GET INVOLVED
If you would more information, or would like to get involved or invite us to your town - give us a call on 02890278484 or email us at info@preciouslife.com
Join us in our Street Outreach and be a voice for the unborn child.