Sinn Fein call for 'Exclusion Zones' to block pro-life vigils
Sinn Féin are attacking pro-lifers' rights to freedom of assembly and freedom of expression
A motion to Newry, Mourne and Down Council is set to discuss pro-life vigils organised by Precious Life outside abortion centres in Newry. A similar motion will also be proposed at Derry & Strabane council meeting by PeopleBeforeProfit councillor Maeve O'Neill.
Sinn Féin support the abortion law that was forced on the North of Ireland by the British Parliament in Westminster. Since the legislation came into effect on 31st March last year, more than 1345 unborn babies have been killed. Sinn Fein is now at the forefront in calling for Westminster to force the Assembly to commission more abortion in Northern Ireland.
The Sinn Féin motion to the council will also ask that Council write to Health Minister Robin Swann and Justice Minister Naomi Long urging them to take steps to block pro-lifers' right to freedom of assembly and freedom of expression. The introduction of so-called "exclusion zones" is being advocated. This would effectively criminalise any woman or man who gives out pro-life information, or is even silently praying, outside centres where unborn babies are being killed.
Sinn Fein Councillor Roisin Howell said Precious Life protecting unborn babies outside the abortion centres was "completely unacceptable"
Sinn Fein Councillor Oonagh Magennis echoed her colleague's discriminatory position. She said: "Both the Health and Justice Ministers need to act to ensure that these types of protests are somehow dealt with by the authorities …I would sincerely hope that this motion to council will be unanimously supported by all."
Meanwhile, Newry and Armagh Sinn Féin MLA Liz Kimmins has confirmed that she has written to both the Justice and Health Ministers demanding that they take action to ban Precious Life's presence outside the baby-killing centres.
The pro-abortion MLA said: "I am absolutely disgusted …I have written to the Justice Minister Naomi Long and Health Minister Robin Swann demanding that they take appropriate action to stop this behaviour …Myself and my colleagues are pressing the Ministers to introduce exclusion zones"
The hypocrisy of this Party is galling. Everyone knows that Sinn Féin has long since rejected the 1916 Easter Proclamation's call on Irishmen and Irishwomen to "cherish ALL the children of the nation equally." But now Sinn Féin - a party that was founded in protest, and for decades has organised countless protests across the North of Ireland – are attempting to stop pro-life protests and vigils. Under the dictatorship of Sinn Féin - everyone has the right to protest …but only if the protest is approved by Sinn Féin.
The right to freedom of assembly and right to freedom of expression are fundamental human rights. Precious Life's Vigils will continue offering help and life-affirming alternatives to women outside the abortion centres. We will never stop actively protecting unborn babies - when and where-ever their lives are in danger of abortion.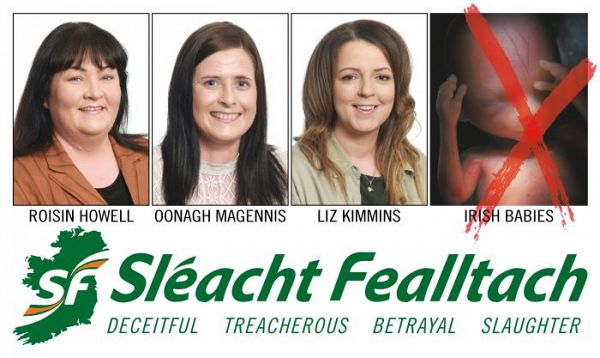 If you live in the Newry, Mourne and Down or Derry City and Strabane District Councils - contact your councillors and tell them that you want the right to life of unborn babies protected, and that the rights to freedom of assembly and freedom of expression must be upheld.
Contact details here...
Newry, Mourne and Down District Council
Derry City and Strabane District Council