Westminster 'not listening' as MPs formally approve abortion powers over Northern Ireland
The House of Commons has been accused of "not listening" to the views of Northern Ireland, as MPs voted to give Secretary of State Brandon Lewis the power to force more abortion here.
The DUP's Carla Lockhart made the comments after the House of Commons formally approved regulations on Tuesday which enable Brandon Lewis to take action on forcing more abortion in Northern Ireland.
431 pro-abortion MPs in the House of Commons voted in favour of the Abortion (Northern Ireland) Regulations 2021, with 89 MPs opposing it.
The Northern Ireland Secretary of State had previously laid down regulations in Westminster allowing him to compel Stormont to directly implement abortion laws.
Responding to the vote, the DUP MP for Upper Bann Carla Lockhart said Parliament "has not listened" to the views of Northern Ireland.
"It is a process that commenced when there was no functioning Assembly or Executive to take such decisions. That was the key rationale given at the time for why Parliament was taking action in an area which is a wholly devolved matter" she said.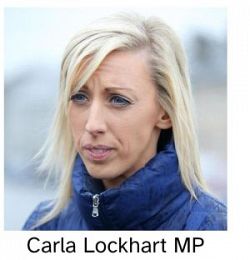 "We have seen clearly where other arguments claiming intervention was necessary because of international law have been demonstrated to be spurious. The CEDAW Committee report is not binding and does not constitute international obligations.
"Devolution has now been restored and there is already Private Members Legislation tabled at Stormont in relation to the abortion issue. The Northern Ireland Assembly is the place where such debates should happen and such decisions should be taken.
"The DUP has been consistent and united in our call to repeal Section 9 of the abortion legislation and allow this to be decided upon in Northern Ireland.
"This evening's vote is a further signal that Parliament has not listened to the views from Northern Ireland and ultimately has not respected the devolution settlement.
"MPs from across the House should recognise the enormous damage this has caused and the message it has sent out about devolution in Northern Ireland."
Responding to the vote in Westminster, Director of Precious Life Bernadette Smyth said, "Once again Westminster has ignored devolution and has seized power to override the Stormont Assembly.
"The Westminster Parliament already forced abortion on Northern Ireland in 2019 when our Assembly was suspended. Westminster. MPs passed Section 9 of the 'NI Executive Formation Act' and Westminster's abortion legislation came into force in Northern Ireland on 31st March last year. Over 1345 unborn babies have been killed since then. But that's not enough for these pro-abortion MPs. They want even more babies killed by abortion here.
"Brandon Lewis will now be interfering in a devolved matter even though the NI Assembly is up and running. Westminster does not ignore the principles of devolution for Scotland and Wales, but it's clear they do so for Northern Ireland."
Bernadette Smyth concluded, "Precious Life will continue our campaign to repeal Section 9 and restore full protection for unborn babies in Northern Ireland."