MP wants 2-year jail terms for anyone offering support to women outside abortion centres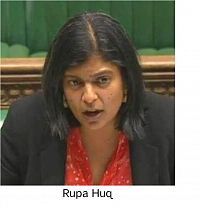 A Labour MP has tabled an amendment in Westminster that aims to imprison any woman or man offering support to women outside abortion centres. The jail terms will be up to two years.
Pro-abortionist Rupa Huq, MP for Ealing Central and Acton, tabled an amendment to the Public Order Bill. She intends to make it illegal to offer support to a woman seeking an abortion within 150m of an abortion centre.
Her Bill is similar to the draconian Bill passed by pro-abortion MLAs in the Northern Ireland Assembly earlier this year.
Pro-abortionists in Sinn Fein, SDLP, Alliance, UUP, Green Party and PBP all voted to criminalise women and men who pray outside abortion centres in Northern Ireland. In fact, their Bill makes it a CRIME to DO ANYTHING outside an abortion centre which might "influence" a person in their decision to attend an abortion centre.
Simply holding a sign; distributing information leaflets; talking to a woman to offer her help, or simply praying outside an abortion centre will be '...punishable on conviction by fines' up to £2500. The Bill also gives police the power to '...use reasonable force' to physically '...remove' a pro-life person from the zones. The terms of the legislation are so broad and sweeping, that any innocent person who acts in any way that might 'influence' a woman to keep her baby, will be charged with committing a crime.
The Northern Ireland Bill has yet to become law after it was referred to the UK Supreme Court. The Court will decide later this year if the Bill interferes with the rights of freedom of expression and free speech. [see: Supreme Court to decide on Right to hold Pro-Life Vigils in Northern Ireland ]
Fundamental right to protest?
At events to mark the death of the Queen and proclaim Charles as the new King, police made a number of arrests of protesters.
Free-speech campaigners described the arrests as "deeply concerning". Index on Censorship said we must guard against the erosion in any way of "the freedom of expression that citizens of this country enjoy". Big Brother Watch said police officers had a "duty to protect people's right to protest". Liberty said, "Protest is not a gift from the State, it is a fundamental right". The Metropolitan Police also said people "have a right to protest". A spokesman for the Prime Minister said, "…the fundamental right to protest remains as a keystone of our democracy."
We await to hear if these Free Speech Campaigners, the Police, or the Prime Minister and her Government will also speak out with such forthright words when it comes to the rights of pro-life people standing outside an abortion centre.