Abortion Zones for Northern Ireland like racial segregation in US
Watch videos: Isabel Vaughan-Spruce talks to Tucker Carlson
Barrister says "Thought Crime" now exists in the UK
---
Draconian and discriminatory laws to criminalise women and men who pray outside abortion centres are like racial segregation laws in pre-civil rights USA
Director of Precious Life Bernadette Smyth hit out after the UK's Supreme Court upheld a law to ban and criminalise pro-life vigils.
Zones of at least 150 metres are set to be drawn around abortion centres and any pro-life person who stands within a zone will be criminalised and face fines of up to £2500
Bernadette Smyth said. "These extreme and draconian measures will make praying a crime."
"It's not that long ago that we saw a civil rights movement rise up when black people were segregated and told they could not sit at the front of the bus."
"Now pro-lifers are being told 'you can't stand in a certain area.' That is discrimination."
"In Britain during the 1950s and 1960s, signs stating "No Dogs, No Blacks, No Irish" were routinely displayed in the windows of hotels, boarding houses and guest houses. In 2023 we will now have discriminatory signs basically stating - "No Pro-Lifers" - on public streets outside abortion centres.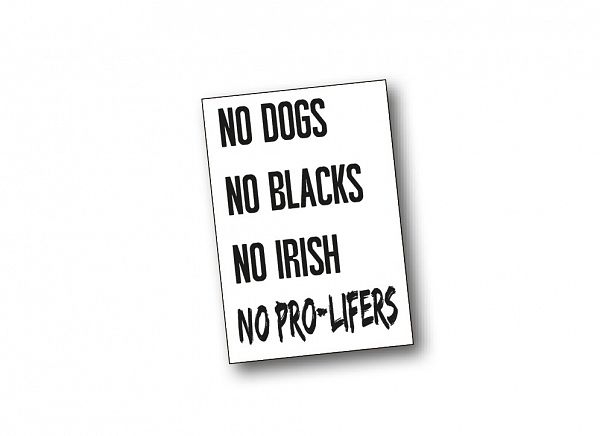 She added, "A blatant example of how women will be criminalised outside abortion centres was the charity volunteer in Birmingham arrested and searched for silently praying."
Isabel Vaughan-Spruce was arrested and charged on four counts after she told the police she "might" be praying silently, when questioned as to why she was standing on a public street near an abortion facility.
Police approached her standing near a baby-killing centre in Birmingham. She was carrying no sign and remained completely silent until approached by officers. Police had received complaints from an onlooker who suspected that Vaughan-Spruce was praying silently in her mind.
"It's abhorrently wrong that I was searched, arrested, interrogated by police and charged simply for praying in the privacy of my own mind. Censorship zones purport to ban harassment, which is already illegal. Nobody should ever be subject to harassment. But what I did was the furthest thing from harmful – I was exercising my freedom of thought, my freedom of religion, inside the privacy of my own mind. Nobody should be criminalised for thinking and for praying, in a public space in the UK," said Isabel Vaughan-Spruce, following her arrest for silent prayer.
Whilst in the police station, Vaughan-Spruce was shown pictures of herself outside the abortion facility. She said she could not recall from the pictures whether she was praying at these specific moments, or whether these had been taken at times that she was distracted and thought about other things, such as her lunch. She maintains that all her thoughts were equally peaceful and imperceptible and that none should be criminalised.
"Isabel's experience should be deeply concerning to all those who believe that our hard-fought fundamental rights are worth protecting. It is truly astonishing that the law has granted local authorities such wide and unaccountable discretion, that now even thoughts deemed "wrong" can lead to a humiliating arrest and a criminal charge," said Jeremiah Igunnubole, Legal Counsel for ADF UK, the legal organisation supporting Vaughan-Spruce.
"We must ask ourselves whether we are a genuinely democratic country committed to protecting the peaceful exercise of the right to freedom of speech.," he continued.
Police also imposed restrictions, as part of her bail, on Vaughan-Spruce engaging in public prayer beyond the PSPO area, stating that this was necessary to prevent further offences.
"My faith is a central part of who I am, so sometimes I'll stand or walk near an abortion facility and pray about this issue. This is something I've done pretty much every week for around the last 20 years of my life. I pray for my friends who have experienced abortion, and for the women who are thinking about going through it themselves," she said.
Bernadette Smyth concluded, "We will challenge these discriminatory zones, going as far as the European Court of Human Rights. I have been protecting and saving babies by standing outside abortion centres for 25 years and I will not stop."
Isabel Vaughan-Spruce talks to FOX NEWS' Tucker Carlson...
Popular YouTube Barrister says "Thought Crime" now exists in the UK...
The 'BlackBeltBarrister' explains how "thinking in a certain place" is now prohibited in the UK...