Former Pop star thanks Precious Life for sharing her story of abortion regret
Kaya Jones, a former member of pop group The Pussycat Dolls, has tweeted her thanks to Precious Life and others for sharing her abortion regret story around the world.
Kaya had spoken out about her pain and regret of having 3 abortions during an interview on the Students for Life of America podcast.
She said her experience was something "you wish you never even encountered because it's painful beyond measure" and that women "never get over" the emotional trauma of abortion.
Kaya had her first abortion at 16, but said that at such a young age she "didn't have any understanding" the abortion was killing her child.
At age 30, she was raped as a result of "poor choices with someone I had been with in my past." Although he "wanted to keep the baby," Kaya said there were "complications" which ultimately "led to another abortion."
"After the first [abortion] you don't think you've done anything wrong …It's been normalised, and what is a line until you've crossed it? You don't know what a line is once you've crossed that line. It's a slippery slope to continue to cross those lines", she said.
Kaya added that there is "a lack of respect between men and women in our culture. and that when a woman chooses abortion instead of life, "what you're showing men is that you don't value yourself or your seed or their seed. In return, they don't value us as women because we're willing to do these things to ourselves and to our children and to their seed as men."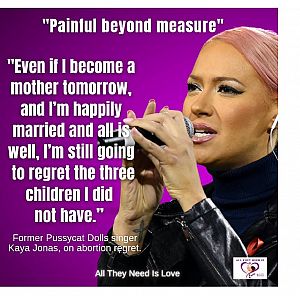 On the common argument that abortion is acceptable in cases of rape. Kaya tells women, "I've gone through it all, and I will assure you, you will regret it your whole life…even if I become a mother tomorrow and I'm happily married and all is well, I'm still going to regret the three children I did not have."
Kaya now lives in Florida and she hopes that she can still be "able to be a mom" someday and said - "I hope to be a wife and to be able to share what I do believe is the greatest gift and ultimately the greatest job you'll ever have on this planet as a woman."
The former singer now dedicates herself to using her voice for God and to defend life, and she wants her experience to point the world to the lifesaving message of Jesus Christ.
Precious Life concluded that Kaya Jones' powerful testimony will help other women avoid the same mistakes by choosing life for their babies.