Bernadette Smyth pays tribute to Joe Scheidler - the 'father of pro-life activism'
It is with great sadness that I pay tribute to my dear friend Joseph M. Scheidler – or Joe as he was called by all those who loved him. Joe went to his eternal reward on Monday morning (18th January) aged 93.
Joe founded the Pro-Life Action League headquartered in Chicago. He was described as the 'father of pro-life activism'. He defined pro-life direct action in his bestselling book - CLOSED - 99 ways to stop abortion. This was my "go to" activist manual when I founded Precious Life in 1997.
To me personally, Joe was one of the most courageous and self-giving people I've ever met. He spent nearly 50 years of his life saving unborn babies from abortion.
Joe visited Ireland on a number of occasions to speak at Precious Life Conferences. He always shared with us the practical ways that each of us can take the love of Christ forcefully, but peacefully with purpose, onto the streets of Northern Ireland to save the babies.
Joe often recalled how America had responded to the abortion threat before it was legalised there. He said that if only the churches had acted sooner, if only the pro-life movement had united together on the streets, things may have been different and millions of unborn lives could have been spared,
But Joe also spoke of how the tide was slowly but surely turning in the United States as more and more doctors were leaving the abortion industry. There was also a massive pro-life presence on the streets. And more and more Political leaders were standing firm on pro-life values, and funding was being withheld from pro-abortion groups.
However, he always warned us of what lay ahead in Ireland if we ignored the warnings from Amercian. He urged all pro-life people to get actively involved in fighting abortion while it was still illegal on our country. "Tomorrow may be too late" – he warned.
Sadly the evil of abortion is now in Ireland. But we will continue to be inspired and learn from Joe's life of activism in our battle to protect our unborn babies and make Ireland abortion-free once again.
Bernadette with Joe at a Precious Life Conference in 2003.
Also included - Karen Black abd Pastor Ed Martin (pro-life activists from USA) and Moira, Paula and Derek from Precious Life
Bernadette Smyth with Joe Scheidler outside Washington Abortion Centre 2016
Joe' s oldest son Eric now serves as the Pro-Life Action League's executive director. He announced the sad news of the death of his father on Monday -
— The Pro-Life Action League is mourning the death of founder Joseph M. Scheidler, widely known as the "Godfather of Pro-Life Activism." Joe began his life's work fighting abortion in 1973, shortly after the Roe v. Wade decision, and founded the League in 1980 to recruit and equip pro-life Americans to be a voice for unborn children in their own communities throughout the country and the world. Countless pro-life volunteers and leaders alike credit Joe with having inspired them to join the movement. "My father's proudest accomplishment was the pro-life work of those he inspired to take an active role in the fight against abortion, the greatest injustice of our time," said Eric Scheidler, Joe's oldest son, who serves as the League's executive director. "For years, people have been telling me about the talk or protest where they met my father, and how his words and example prompted them to do more than just talk, but to take responsibility for addressing the injustice." Joe was born on September 7, 1927, in Hartford City, Indiana. After serving in the U.S. Navy as a military policeman at the end of World War II, he earned a bachelor's degree in communications at the University of Notre Dame and a Master's Degree at Marquette University. He spent eight years in religious life, studying for the Catholic priesthood at St. Meinrad Seminary in Indiana. After discerning that God was not calling him to the priesthood, he served as a teacher at Mundelein College, during which time he chaperoned a group of students on a pilgrimage to march with Dr. Martin Luther King, Jr. from Selma to Montgomery in 1965. "It's fitting that my father died on the day when Americans remember the legacy of Martin Luther King," said Eric Scheidler. "Seeing the impact that regular Americans could have by taking action against racial injustice inspired my father to mobilize Americans in the same way in the fight against the injustice of abortion." That story and many others from his five decades of pro-life activism are recounted his 2016 memoir Racketeer for Life: Fighting the Culture of Death from the Sidewalk to the Supreme Court. Joe's career as a pro-life activist took him to every state in U.S. and countries on four continents, as well as through countless court battles, including the notorious NOW v. Scheidler RICO case, the longest case in U.S. federal court history and the only one to make three trips to the U.S. Supreme Court, including 8-1 and 8-0 rulings in 2003 and 2006 that fully vindicated him. His 1985 book CLOSED: 99 Ways to Stop Abortion, a centerpiece of the NOW v. Scheidler trial, became the manual for pro-life activists throughout the world. Joe Scheidler died of pneumonia at the age of 93 at 9:45 a.m. on Monday, January 18, 2021, surrounded by his family at his home on Chicago's northwest side. Joe is survived by his wife Ann, seven children, twenty-six grandchildren, and one great-granddaughter. Funeral arrangements will be announced shortly in his official obituary. [ View Funeral Mass here... ]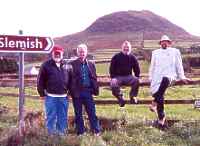 On one of his visits to Northern Ireland, Joe was taken by Precious Life member Ned Loughran on a tour of the Antrim Glens and Coast. A photo was taken of them at Slemish Mountain where St Patrick tended sheep. So let's all ask St Patrick now to welcome his servant Joe into the sheepfold of heaven.
Our thoughts and prayers are with Joe's wife Anne and family. May he rest in peace +
Bernadette Smyth
Founder/Director - PRECIOUS LIFE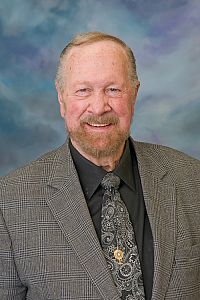 View the Mini-Documentaryon Joe's life...