NI Secretary thanks abortionists who killed 1345 babies in Northern Ireland since March 2020
Precious Life has condemned a statement praising abortion from the Northern Ireland Secretary of State as shocking and revolting. Brandon Lewis called the killing of unborn babies as "high quality"; said he wanted to "embed" abortion in N. Ireland's health system; and he thanked abortionists for killing babies. The pro-life group has demanded the resignation of Brandon Lewis.
Lewis' statement was issued as the Department of Health in Northern Ireland admitted 1345 babied have been killed by abortion since Westminster's abortion regulations came into force at the end of March last year. The Westminster Parliament forced abortion on Northern Ireland through Section 9 of the 'NI Executive Formation Act'.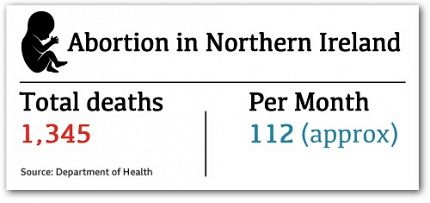 These latest abortion figures were revealed as the UK Government laid in the Westminster Parliament yesterday (23 March) a new law – The Abortion (Northern Ireland) Regulations 2021 - that gives the Secretary of State for Northern Ireland the power to force Northern Ireland Ministers, departments and health bodies to kill more babies in the womb, under the conditions of Section 9.
In a statement issued by the Government's Northern Ireland Office, the Secretary of State for Northern Ireland, Brandon Lewis described killing babies in the womb as "high-quality abortion" and a "moral obligation".

He also said he wants the killing of more unborn babies to "become embedded into the health and social care system in Northern Ireland"
Brandon Lewis added that he wanted to "put on record my thanks" to the so-called "medical professionals" who killed the 1345 unborn babies, and to the pro-abortion organisations that campaign for more babies to be killed in Northern Ireland.
Director of Precious Life Bernadette Smyth said "Brandon Lewis must resign. His statement is utterly shocking. Not content with over-riding devolution to force more abortion here, he now has the arrogance to describe killing a baby in the womb as 'high quality'. It's all the more revolting that he then thanks the abortionists who killed 1345 babies in Northern Ireland."
Bernadette concluded, "Our Repeal Section 9 Campaign is now all the more urgent. Our Assembly must repeal this anti-democratic and anti-life law that was forced on us from Westminster. Precious Life will continue fighting to ensure the right to life and full legal protection is restored to every unborn child in Northern Ireland."
Bernadette Smyth on RTE NEWS
(If you have problems viewing the video on a mobile device - click here...)